Accident and
Prevention
Road Safety
Fundación MAPFRE started developing activities in Malta in 2012 , one of the first activities was an awareness campaign promoting road safety to school children through the successful "Street Smart Campaign" to pupils aged 11 to 13 years old, since then there were a number of other activities in the fields of Accident Prevention and Road Safety, Insurance and Social Protection, Culture, Social Action and Health Promotion.
The main objective of this campaign is to create awareness about road safety, whether they are pedestrians, cyclists, drivers or passengers, because every person using the road plays an important role on it.
Following the success of the Street smart campaigns in schools, Fundación MAPFRE partnered with Malta Public Transport (MPT) to deliver informative presentations on the importance of road safety. As part of this campaign, children had the opportunity to go on a bus ride to an area where a team of actors and a driver of MPT provided sessions in a dynamic and comical way explaining road safety measures, such as the correct way to cross the road and get familiar with various road traffic signs.
Since COVID-19 pandemic hit, Fundación MAPFRE had to reinvent the way they were carrying out this project, and in 2021, through a collaboration agreement between Malta Public Transport, The Ministry of Education and Malta´s Road Safety Council the project was introduced in all schools via interactive videos on road safety using real-life situations.
Find out more about Fundacion MAPFRE's actions on this area below.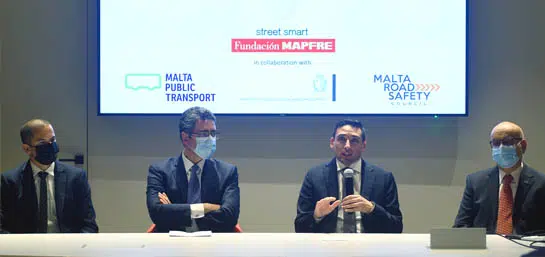 As part of its commitment to keep safety as a top priority, Fundación MAPFRE, in collaboration with Malta Public Transport, the Ministry for Education, and the Malta Road Safety Council, are launching the Street Smart 7 safety campaign.