MAPFRE MSV Life organized a seminar on Workplace Pensions and Default Investment Options during which it presented for the first time the MAPFRE MSV Life WorkSave Pension Scheme to the participants. The seminar was organized in collaboration with Fidelity International, a leading international company which offers investment management services including mutual funds, pension management and fund platforms to private and institutional investors.
Addressing the participants, David G. Curmi, Chief Executive Officer of MAPFRE MSV Life, highlighted the importance of saving enough, saving well and saving wisely for retirement.
"Many people either lack awareness on the importance of saving towards retirement or tend to always postpone financial planning to a later date," said Mr. Curmi. " Several individuals, both young and not so young, believe that pensions are something to think about later in life, and as a result, decisions pertaining to pensions are often postponed," he added. This could be due to a lack of awareness on how pension systems work, leaving many at a significant risk of realizing too late that their statutory pension will not be enough to ensure an adequate or desired standard of living during their retirement years. In this context, Mr. Curmi highlighted the importance that one starts to save early and regularly, emphasizing that future pension adequacy is not only dependent on how much people save and how long for, but also on the asset classes which they choose to invest in.
The seminar was then addressed by Parth Soneji, Solution Designer and Isabella Labak, Client Portfolio Manager at Fidelity International. They spoke about the required annual savings rate that is necessary to achieve a desired income replacement rate in retirement and various savings factors that can help an individual on the journey towards retirement. A detailed presentation was provided on the Fidelity TargetTM (Euro) Funds which adjust investment risk in-line with time to maturity thus making them a compelling Default Investment Option linked to workplace pension schemes.
The seminar was also addressed by Michael Galea, Chief Business Development Officer of MAPFRE MSV Life, who presented the MAPFRE MSV Life WorkSave Pension scheme details and highlighted that this is the first insurance based Voluntary Occupational Pension scheme that will be available in the market. Mr. Galea explained that MAPFRE MSV Life will work closely with employers to help them structure a WorkSave Pension Scheme that effectively meets their requirements and objectives and that would help them in their recruitment and retention strategies, positioning them as an employer of choice.
"The MAPFRE MSV Life WorkSave Pension Scheme is set up with a Default Investment Option that the employer selects and that is offered with the majority of the workforce in mind, helping to address the behavioural issues that prevent savers from saving well for retirement. Our Default Investment Options include the Fidelity TargetTM (Euro) Funds and other conservative and balanced investment strategies from a wide range of funds that we are able to link to," said Mr Galea.
The MAPFRE MSV Life WorkSave Pension Scheme is provided and underwritten by MAPFRE MSV Life p.l.c., (C15722). MAPFRE MSV Life p.l.c. is authorised by the Malta Financial Services Authority (MFSA) to carry on long-term business under the Insurance Business Act, Cap 403 of the Laws of Malta. MAPFRE MSV Life is regulated by the MFSA.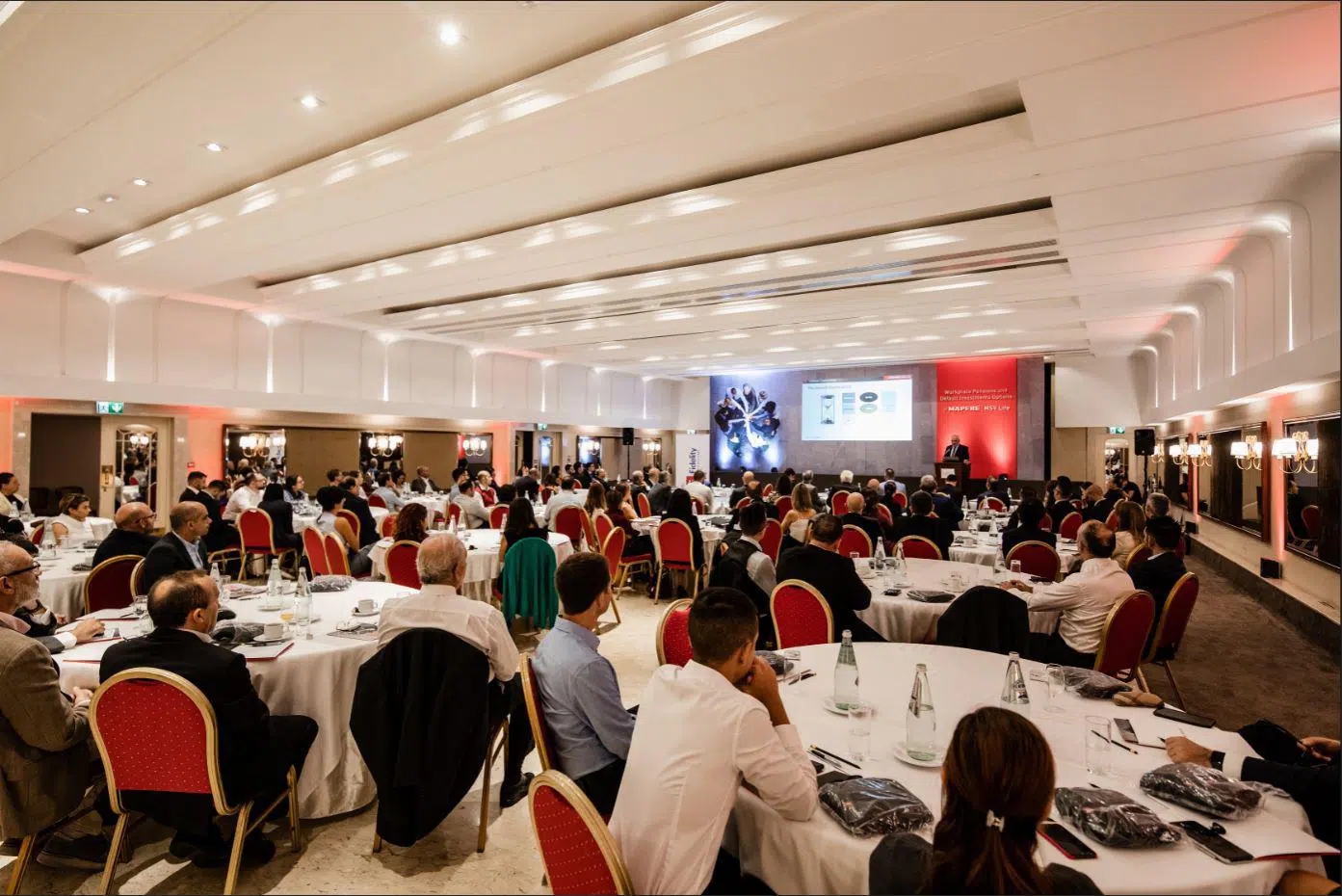 Pensjonijiet ta' fuq il-post tax-xogħol u għażliet ta' skemi ta' investiment diskussi waqt seminar minn MAPFRE MSV Life MAPFRE MSV Life organizzat seminar dwar l-iskema ta' pensjonijiet fuq il-post tax-xogħol u l-għażliet ta' investiment, waqt li preżentat għall-ewwel darba l-iskema tal-pensjonijiet
MAPFRE MSV Life WorkSave Pension Scheme. Is-seminar ġie organizzat b'kollaborazzjoni ma' Fidelity International, kumpanija internazzjonali li toffri servizzi ta' immaniġjar ta' fondi reċiproċi, pensjonijiet u pjattaformi ta' fondi lil investituri privati u istituzzjonali. F'Indirizz lill-parteċipanti, David G. Curmi,
Uffiċjal Kap ta' MAPFRE MSV Life, enfasizza l-importanza li wieħed ifaddal b'mod tajjeb u għaqli għal meta jiġi biex jitira. "Ħafna nies m'għandhomx għarfien biżżejjed dwar l-importanza ta' tfaddil għall-irtirar jew għandhom it-tendenza li dejjem jippostponu għal aktar tard," qal is-Sur Curmi. " Ħafna nies, kemm żgħażagħ u dawk ikbar fl-eta, jemmnu li l-pensjonijiet huma xi ħaġa li wieħed jaħseb dwarha aktar tard fil-ħajja u għalhekk, jagħżlu li jippostponu ċertu deċiżjonijiet," żied jgħid. "Dan jista' jkun minħabba nuqqas ta' għarfien dwar kif jaħdmu s-sistemi tal-pensjoni, u dan iżid ir-riskju li wieħed jirrealizza tard wisq li l-pensjoni tiegħu mhix se tkun biżżejed biex tiżgura livell ta' għajxien kif mixtieq matul is-snin tal-irtirar." F'dan il-kuntest, is-Sur Curmi enfasizza l-importanza li wieħed jibda jfaddal kmieni u regolarment, filwaqt li fakkar li l-pensjoni mhux biss tiddependi fuq kemm in-nies ifaddlu, imma liema klassi u skema jagħżlu.
Parth Soneji, Solution Designer, u Isabella Labek, Client Portfolio Manager ta' Fidelity International ukoll indirizzaw dan is-seminar. Huma tkellmu dwar ir-rata ta' tfaddil annwali li hija meħtieġa biex tinkiseb rata ta' sostituzzjoni tad-dħul mixtieqa fl-irtirar u diversi fatturi ta' tfaddil li jistgħu jgħinu individwi. Huma preżentaw fid-detall l-iskema Fidelity Target (Euro) Funds, fejn l-investiment ikun f'konformità maż-żmien sal-maturità u b'hekk wieħed għandu l-għażla ta' skema li hija marbuta ma' skemi ta' pensjonijiet fuq il-post tax-xogħol. Is-seminar kien indirizzat ukoll minn Michael Galea, Uffiċjal Kap għall-Iżvilupp tan-Negozju ta' MAPFRE MSV Life, li ppreżenta fid-dettal l-iskema tal-Pensjoni MAPFRE MSV Life WorkSave u enfasizza li din hija l-ewwel skema volontarja li se tkun disponibbli fis-suq Malti. Is-Sur Galea spjega li MAPFRE MSV Life se tkun qed taħdem mill-qrib ma' min iħaddem biex jgħinhom jistrutturaw din l-iskema WorkSave Pension Scheme biex b'hekk tissodisfa l-oġġettivi tagħhom bl-għan li tgħinhom fl-istrateġiji tagħhom, biex b'hekk isiru impjegaturi tal- għażla.
"L-Iskema WorkSave Pension hija strutturata b'mod li min iħaddem jista' jagħżel kif jixtieq l-iskema u offruta b'mod li tgħin lill-individwi jindirizzaw kwistonijiet li jipprevenuhom milli jfaddlu. Dawn l-għażliet jinkludu Fidelity Target (Euro) Funds u aktar strateġiji konservattivi minn diversi pjattaformi li aħna marbutin magħhom," qal is-Sur Galea. MAPFRE MSV Life WorkSave Pension Scheme hija provudta minn MAPFRE MSV Life p.l.c ((C15722).
MAPFRE MSV Life p.l.c. (C-15722) hija awtorizzata mill-Awtorità għas-Servizzi Finanzjarji ta ' Malta biex tmexxi negozju tal-assigurazzjoni fit-tul taħt l-Att dwar il-Kummerc tal- Assigurazzjoni, Kap 403 fil- Liġijiet ta' Malta. MAPFRE MSV Life hija regolata mill-MFSA.